About our Tiles
What is a ceramic encaustic tile?
Encaustic tiles are ceramic tiles in which the pattern or figure on the surface is not a product of the glaze but of different colours of clay. They are often of two colours, but a tile may be composed of as many as six. The pattern is inlaid into the body of the tile, so as the tile is worn down the design remains. Encaustic tiles may be glazed or unglazed and the inlay may be as shallow as 2 to 3 millimetres, as is often the case with "printed" encaustic tiles from the later medieval period, or as deep as 7 millimetres.
What were called encaustic tiles in the Victorian era were originally called inlaid tiles during the medieval period. The use of the word "encaustic" to describe an inlaid tile of two or more colours is technically incorrect. The word encaustic means "burning in" from the Greek en "in" and kaiein "to burn". The term originally described a process of painting with a bees-wax based paint that was then fixed with heat. It was also applied to a process of medieval enameling. The term did not come into use when describing tile until the 19th century. Supposedly, Victorians thought that the two-colour tiles strongly resembled enamel work and so called them 'encaustic'. Despite the error, the term has now been in common use for so long that it is an accepted name for inlaid tile work.
Our antique tiles and where they come from
Our floors are unique; they are tiles typically dating from between 1850 and 1940 and have been reclaimed from their original homes in France, Belgium and The Netherlands. They were produced by a multitude of heritage ceramic manufacturers that often employed tens of thousands across France and Belgian in their glory days at the beginning of the twentieth century. Sadly, the majority of these 'Usines' are long since closed though some, like Boch Freres and Winckelmans, still trade to this day.
Owing to their handmade production in small batches, there is sometimes subtle variations in tile sizes as well as the slip colour. This was, after all, a period of pre-computer-controlled production when slip colours were mixed by hand, resulting in tonal variations that only add to the tiles charm and uniqueness in our opinion. Where tonal variations are stronger on a specific floor we aim to show this in the photography.
Antique floor tiles come in various sizes with the most common ceramic size being 14cm square. They also exist in 14.2cm, 14.5cm, 15cm, 16cm and 17cm. Typically they are c.15mm thick, much thicker than most modern ceramics. Ceramic tiles are fired at around 1,100F degrees. Carreaux de ciments tiles are generally 16cm or 20 cm square with the latter the most common. They are thicker than ceramic tiles at c.20mm+ thick. Carreaux de ciment tiles are cured; once taken from their mould they are simply left to dry but generally in a humid environment so they set slowly and avoid any cracks appearing that can occur if they dry too quickly.
We lift these antique floors and transport them to our workshop where the old mortar is painstakingly removed tile by tile, as is years of wax and dirt. During this process we rigorously quality control each individual tile, rejecting anything that has more than groutable edge nibbles or a small chip. Consequently, the floors have an antique and charming patina but that is not at the expense of their robustness for the next hundred years. Any reject tiles are still cleaned but are supplied free for your tiler to use as halves or cuts.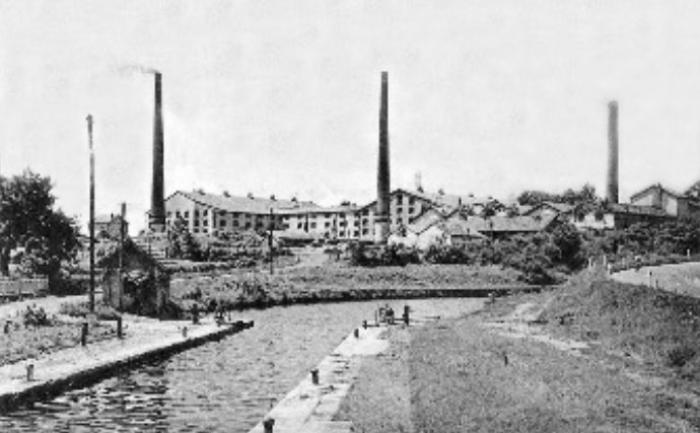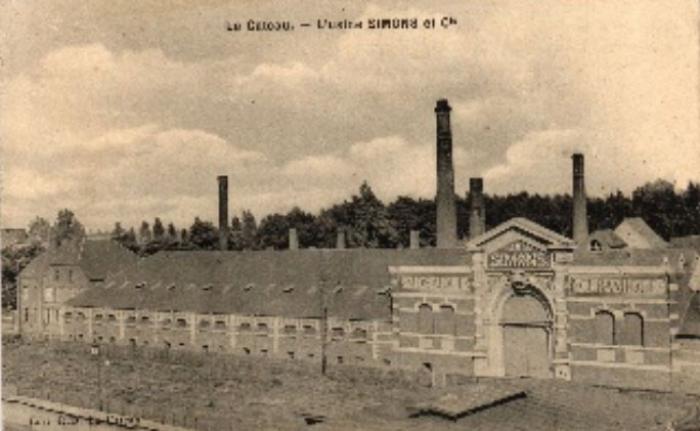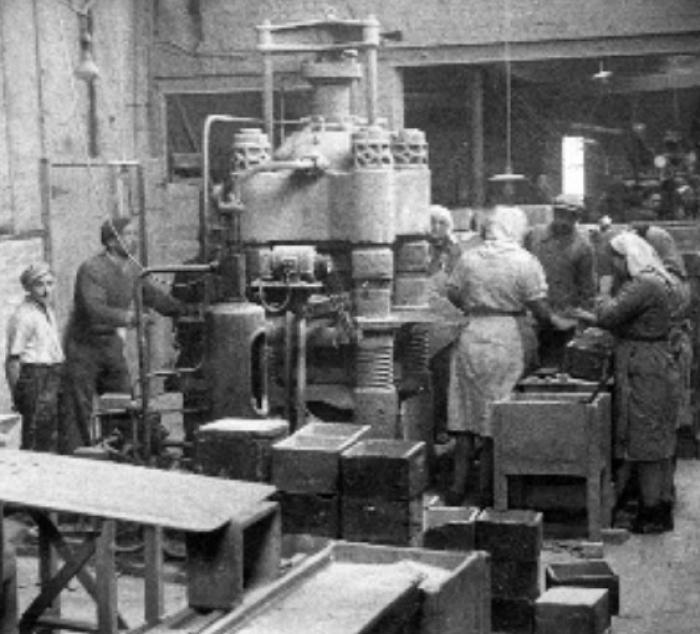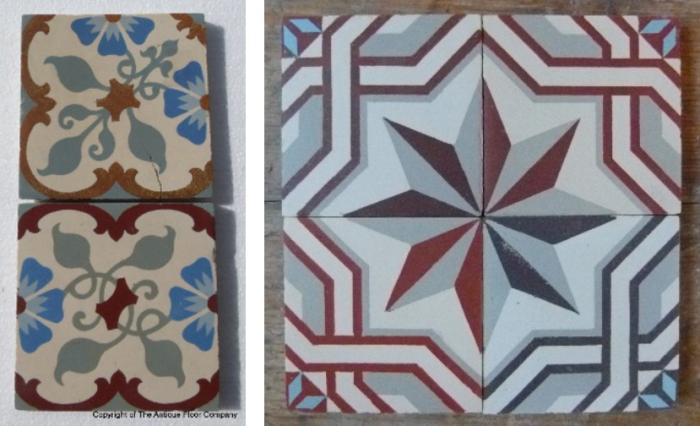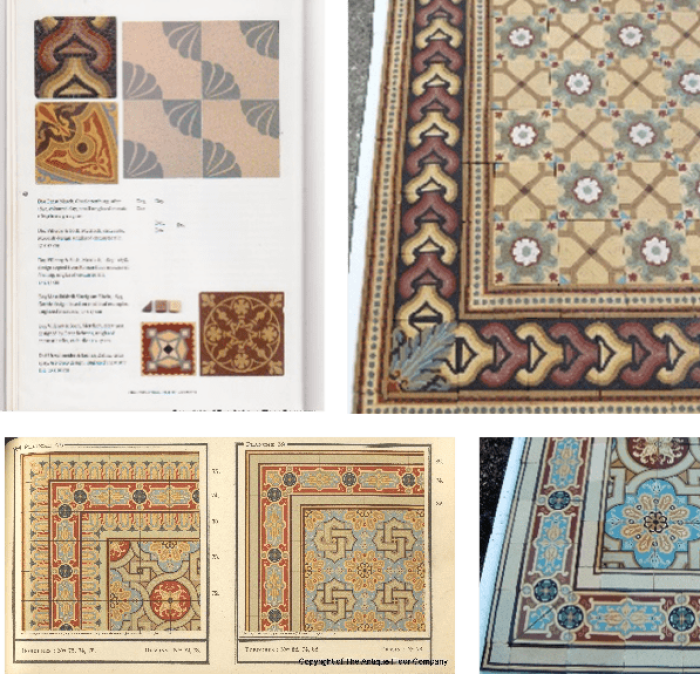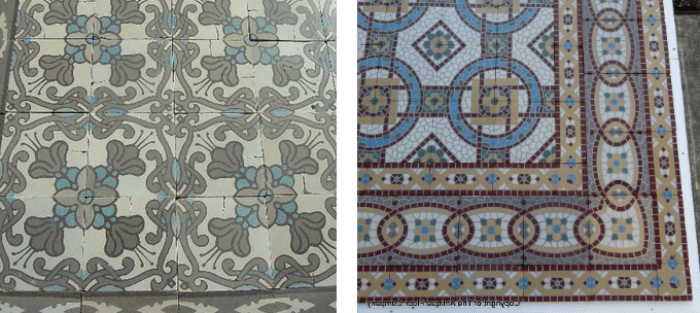 Heritage and Dating
There are many ways in which we can ascertain the heritage and date of our antique tiles: -
Forensic assessment
The construction date of the house they were taken from and any anecdotal information from the owners. Often the tiles would have been laid when the house was built.
Tile markings
These provide key information on the producer and often the date range of production
Antique catalogues and tile publications
Paper catalogues presented their product ranges and over the years we have built up a collection of these catalogues. From these old catalogues we can often identify and date a tile, examples of which are shown here. Equally, there are specialist publications on ceramics which aid in the dating and history of European ceramic tiles.
Here we show a page from the publication 'Industriele Tegels 1840-1940' dating this Boch Freres floor reclaimed by The Antique Floor Company to between 1875-1878. A page from the 1905 Sand & Cie catalogue in our possession and the reclaimed tiles.
Period styles
Styling can be defined in date ranges; who cannot immediately see art nouveau DNA in a design or know that 'faux mosaic' was a popular French tile styling between 1920 and 1940?
Applications
Inside or outside of the home..
Our antique tiles can be laid inside or outside of the home and indeed many of our clients have laid them outside to stunning effect on patio's, walkways and entrances. Cold and sub-zero temperatures in winter and hot temperatures in summer months will not damage the tiles and the density of ceramic makes it almost impenetrable to moisture and subsequent freezing. However, if a tile cracks owing to an accident it is wise to replace it as freezing and thawing will eventually likely widen the crack, break the tile and perhaps start moving tiles in proximity.
Being a cured rather than a fired tile and with a porosity more like terracotta tiles, Carreaux de ciment tiles cannot be laid outside as the cycle of freezing and thawing will eventually break them.
and not just on floors..
When using the correct cements our antique floor tiles can also be fixed to walls, for example, as splashbacks, in showers, in chimney hearths or inglenooks. Many of our clients have done so with impressive results.