Frequently Asked Questions
We will regularly update this section as your questions come in.
What is a ceramic encaustic tile?
Encaustic tiles are ceramic tiles in which the pattern or figure on the surface is not a product of the glaze but of different colours of clay. They are often of two colours but a tile may be composed of as many as six. The pattern is inlaid into the body of the tile, so as the tile is worn down the design remains.
Encaustic tiles may be glazed or unglazed and the inlay may be as shallow as 2 to 3 millimetres, as is often the case with "printed" encaustic tiles from the later medieval period, or as deep as 7 millimetres.
What were called encaustic tiles in the Victorian era were originally called inlaid tiles during the medieval period. The use of the word "encaustic" to describe an inlaid tile of two or more colours is technically incorrect. The word encaustic means "burning in" from the Greek en "in" and kaiein "to burn". The term originally described a process of painting with a bees-wax based paint that was then fixed with heat. It was also applied to a process of medieval enameling. The term did not come into use when describing tile until the 19th century. Supposedly, Victorians thought that the two colour tiles strongly resembled enamel work and so called them encaustic. Despite the error, the term has now been in common use for so long that it is an accepted name for inlaid tile work.
Can the tiles be used with an under-floor heating system?
Ceramic tiles can be used with an under-floor heating system as they are superb conductors and retainers of heat and, having been fired to around 1,100F degrees, there is no risk of them cracking. Conversely, carreaux de ciments tiles are unsuitable for under-floor heating systems as they are in the first instance cured rather than fired and would likely be too thick for heat to dissipate effectively anyway.
It is very likely that the installer of your underfloor heating system will have the necessary technical knowledge to assess the heating efficiency of our tiles and we highly recommend before purchase that you obtain a tile sample of the floor of interest from us to allow for that assessment by them.
Can the tiles be laid outside?
Ceramic tiles can be laid outside and are often seen laid in the front garden walkway of Victorian villas. Cold and sub-zero temperatures in winter and hot temperatures in summer months will not damage the tiles and the density of ceramic makes it almost impenetrable to moisture and subsequent freezing. However if a tile cracks owing to an accident etc. it is wise to replace it as freezing and thawing will eventually likely widen the crack, break the tile and perhaps start moving tiles in proximity.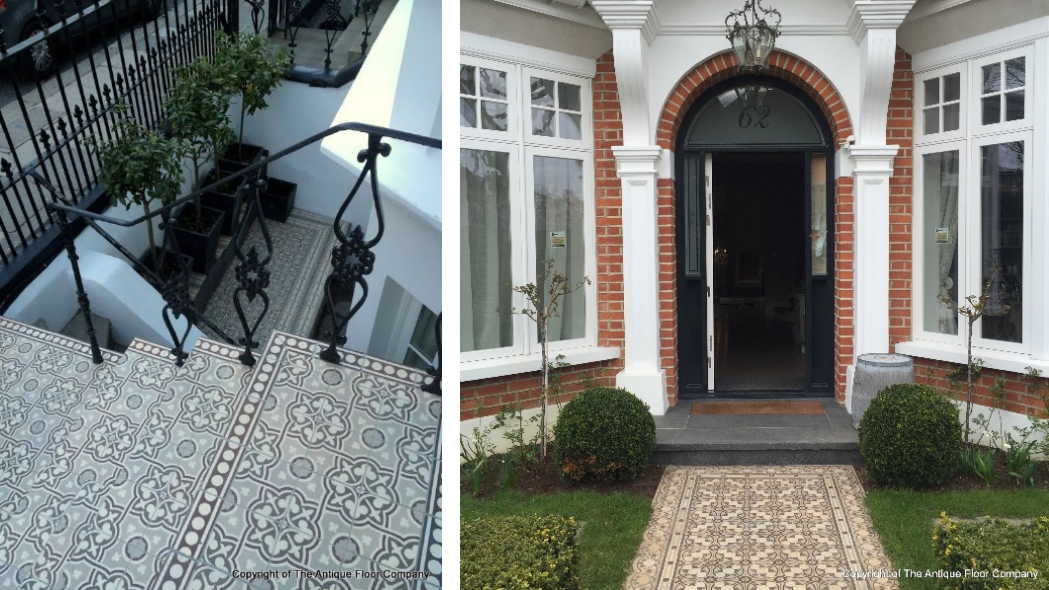 Carreaux de ciments tiles cannot be laid outside as the cycle of freezing and thawing will eventually break the tiles.
Do I need a tiler who is an expert in antique tiles to lay the floor?
The simple answer is 'No' as the tiles are ceramic tiles which just happen to be antique. The approach, process, tools and cements used when laying will be the same as with a new tile.
But a professional tiler is highly recommended for several reasons; -
1) antique tiles are generally geometric in form and tessellate once laid to produce a repeating series of usually two patterns - if the tiles are not well laid from the start the pattern will very quickly go out of line.
2) antique floors generally comprise of more than one tile type, requiring a marriage between the principal main tiles, known as field tiles, and their framing borders. This may involve cutting the tiles with specialist equipment but also initially calculating the best configuration for the borders in the first place.
3) many antique tiles were handmade in small batch runs and as a result have slight width variances that a professional with experience can adjust for when laying the floor.
4) the tiles have been cleaned of their old mortar with specialist cutting equipment but there will remain small variances in their thickness. Again, that is something a professional tiler will account for when he initially dry lays a section of the floor and examines the tiles pre-laying.
A professional tiler will also know which cements to use to lay the tiles depending on whether the tiles are being laid on wood, cement etc. He will also likely be able to provide advice on which cements and grouts to use, how to clean, seal and wax the tiles etc.
We may be able to provide contact details of tilers who have laid floors for clients in your area.
How do I clean and look after the tiles once laid?
Carreaux de ciments tiles
Should you stain a tile never use acid or an acid based product on a carreaux de ciments tile as the acid will dissolve the slip on the surface of the tile. Any stubborn stains can usually be removed with a specialist alkaline based tile cleaner.
To protect a newly installed carreaux de ciments floor it must be 'waterproofed' as carreaux de ciments tiles are porous and will stain. This procedure is called Sealing and will make the regular cleaning of the floor much easier.
You can add lustre to a carreaux de ciments tile (as their clean state is generally 'matt' or 'flat') by two possible treatments namely, 'sealing' or 'waxing'. When laying the floor neither of these options should be done until the cement adhesive and tile joints have had a chance to dry thoroughly otherwise sealing or waxing will simply lock humidity in the tile, possibly resulting in small water stains appearing on the surface.
Ceramic tiles
Ceramic is almost impermeable owing to its density and our antique tiles will be dispatched to you cleaned of any old cement, paint drops, old dirty wax and general surface staining. It is your choice whether to wax the floor or not, depending on the lustre you desire, but waxed or not the best way to clean a ceramic floor is a regular mopping with a mild ceramic tile detergent followed by a rinsing with warm water.
For more stubborn dirt we recommend the Lithofin range of products and a wealth of information on ceramic tile cleaning and sealing / waxing can be found on their site at www.lithofin.com
Simply painted on, sealants are products which coat the tile with an invisible shield of protection making it waterproof and resistant to grease and stains. We also recommend products like FILAFOB, more details of which can be found at www.filachim.com
If you're looking for something that will add a little sheen to the tiles then products like HG GOLVPOLISH, a tile sealant that prevents stains and stubborn dirt spoiling tiles while adding lustre by deepening the colour and texture is recommended. It seals the tiles and gives a satin gloss as well as also having an anti-slip agent.
The traditional and most common treatment of antique floors is waxing. Wax not only protects but lifts the tiles colours giving them a glossy texture. Simply apply a coat of a colourless pure wax to fill out the tile and work in.
For routine maintenance, clean the floor once a month with the wax added to clear water although even easier, some detergents now come with a wax content already mixed in. As a cautionary note, we spend a lot of time removing old dirty wax from antique tiles and discover beautifully coloured tiles underneath! The benefits of waxing are 1) it is a guard against porous staining 2) it adds lustre to the tiles. The argument against waxing is that it can trap dust and dirt in its thin layers and over the months or years the tiles will lose their crisp colours and instead start appearing stained or dull.
When shipping outside of Europe do you deliver to door or port?
Please see the section Packaging and Shipping in the More information section of the website. A link to it can be found here.
Contact details for Customs Brokers and Freight Forwarders can be found at the port and on the internet. Additionally, we may have contact details of companies in your area who have provided these services to previous clients of The Antique Floor Company. We also have a list of potential shipping service providers. Please see FAQ Have you a list of Freight Forwarders and Customs Brokers for international shipping)
When shipping internationally how do freight costs differ depending on weight, number of pallets etc?
The initial pallet is a fixed cost to around 1 metric tonne c. 2,250lbs. This means that regardless of whether you are purchasing a small 50 sq ft floor or a large 250 sq ft floor the shipping cost will be very similar (250 sq ft is approximately the maximum load for one pallet) simply because it physically occupies a similar size space on a ship or in a truck regardless of weight. Not surprisingly, as with most products and services, there is a substantial discount for volume so a second and third pallet in consignment will be at a discounted rate.
Do you make a profit on your delivery charges?
We supply pallets and packaging free. Should you require The Antique Floor Company handle your delivery then we will obtain a delivery quote for you and that delivery cost will be charged at cost. What we pay is what you will pay.
If you nominate to use a Freight Forwarder then the price they offer in their quote is one for you to accept or decline.
Is my purchase insured during its shipping?
For Sea and Air Freight either the Antique Floor Company or an appointed Freight Forwarder can discuss this with you.
In most road shipment services there is no Insurance coverage offered by transporters but bespoke arrangements may be available.
How long will it take to ship my purchase?
For sea freight:-
This is dependent on many variables including destination, frequency of sailings, sailing times and the administrative time for processing exports and imports as well as how busy the port is etc. But what we aim to provide you is key dates i.e. when the ship will depart, when it will arrive in the port, your shipments current status and so on. 
For UK and European deliveries by road freight:- 
Deliveries between countries are now facilitated more and more through a European network of transport companies. Once the transport company is ready to deliver, they will contact you to notify of, or co-ordinate the delivery with you. A truck with a tail-lift will be used and a manual or electric transpallet will position the pallet as close to your desired position as is possible.  But most transporters operate what is called 'kerbside delivery' as, for insurance reasons and the risk of damaging your property, they are reluctant to drive on to your land. Again, at the point of enquiry we will be able to provide an approximate delivery lead-time to your address. As a guideline, a delivery to London or a mainland UK address would take c.10 days. 
 
Is there any duty chargeable on the tiles on entering the USA?
There is no US duty payable on antique tiles more than 103 years old. Regardless of where you live, we encourage you to check locally on any taxes due on importing the tiles.
Have you a list of Freight Forwarders and Customs Brokers for international shipping?
We regularly ship internationally and work alongside our clients appointed Freight Forwarders or Customs Brokers to facilitate a smooth delivery. The list of Freight Forwarders and Customs Brokers below has been provided by our clients and may be useful contacts for obtaining a quote for the onward delivery of an order from the port of entry to your address. We will update the list as new providers become available.
USA - EAST COAST AND MID WEST
Kelly Morrison, C.O.O,    
Alpi Customs Brokers Inc  
70 East Sunrise Highway  
Suite 607   
Valley Stream  NY 11581 
Office: 516-593-1345   | Fax: 516-593-2150 
Cell:  516-428-5182
email:- kelly.morrison@alpiusa.com 
Metropolis Customs Brokers
156-15 146th Ave. #110
Jamaica, 
NY 11434
Tel:- 718-949-6969
Fax: - 718-949-6979
North American Int'l
C/o Export Import Services Inc.
Bethany Commons, Building # 5 Suite 61
One Bethany Road
Hazlet, NJ 07730
Toll Free: 800-834-0194 
Telephone 732-636-8700 • Fax: 732-636-6575
JOHN F. KILROY CO., INC.
Giorgio Maddalena
Director of Sales & Marketing
One Cross Island Plaza
Suite 203E
Rosedale, NY 11422
Tel: 718.656.7818
Cell. 646.725.9190
Fax: 718.656.8888
email:- giorgiom@jfkilroy.com
Website: www.jfkilroy.com
F.C. Gerlach & Co, Inc.
Bob Somerville
290 Central ave
Suite# 105
Lawrence, NY 11559
516-371-9080 (T)
516-371-9088 (F)
email:- Robert@fcgerlach.com
AAA Customs Brokers
Lynn Richmond
5500 Pearl St
Suite 120
Rosemont, ILLINOIS, IL 60018
TEL:-  847-261-0100
email:- lynn@aaacustoms.com
www.aaacustoms.com
Service Shipping Inc.
Bill Marston
1550 E Higgins Road, Suite 108
Elk Grove Village, ILLINOIS, IL 60007
Office: 847-427-1775
Fax: 847-427-1790
email:- Bill@ServiceShipping.com
www.serviceshipping.com
Louie DeMarco,
Vice President,
Edward J Zarach & Associates, Inc.
Customs Brokers & International Freight Forwarders
14 W Hawthorne Ave Suite 103, Valley Stream, New York 11580
T: 516-791-2700 | F: 516-791-2880 
Illinois | Minnesota |New York | Nevada
www.intlfreight.net
Roadrunner Moving & Storage
100 Terminal Street, Boston Autoport, 1st Floor
Charlestown, 
MA 02129
USA
Contact:- Martin Williams
Telephone:- 857-389-2882
email:- mgwil64@gmail.com
Adam Renner,
Branch Manager, 
Air & Ocean Mainfreight, Inc.
7606 Whitehall Executive Center Drive, Suite 300,  
Charlotte, North Carolina
NC 28273
Tel +1 704 357 0412 Ext 54508 | Fax +1 704 357 0415 | M +1 757-597-4972
email:- adam.renner@mainfreightusa.com 
www.mainfreightusa.com
USA - WEST COAST
Savino Del Bene USA – Los Angeles
Roberta Brancolini
2805 El Segundo Blvd. Suite 1
Hawthorne, CA 90250
Ph + 1 (310) 671 9969 - Fax + 1 (310) 671 9939
email:  roberta.brancolini@savinodelbene.com
Western Overseas Corporation
Susan Park
Business Development Specialist
10731 Walker St., Unit B
Cypress, CA 90630
Tel: (562) 985-0616    x 5069
Direct: (714) 243-5069      
Fax: (562) 986-1345
www.westernoverseas.com
email:- susanp@westernoverseas.com
Richard Fleischer Customs Broker
Jose Fleischer
132 West 132nd Street
Los Angeles, CA 90061
310-671-6402 Extension 224
email:- jose@fleischer-chb.com
Trans-Union Customs Service, Inc.
Don Rasmussen
11941 So. Prairie Avenue
Hawthorne, CA 90250 
Tel: - 310-973-0161
CANADA
Argo Customs
5050 Dufferin St.
Suite 202
TORONTO M3H 5T5
ONTARIO, CANADA 
Tel:- 647 832 7433
email:- info@argocustoms.com
BGL BROKERAGE LTD / COURTAGE BGL LTEE 
Bobby Kurkjian  
300 ST-SACREMENT SUITE 123 
MONTREAL, QUEBEC H2Y 1X4 
TEL:(514)288-8111 FAX:(514)288-6226
email:- bkurkjian@bglbrokerage.com
Livingston International
Troy Nobes
Manager Service Delivery
6725 Airport Road, 
Mississauga, Ont. L4V 1V2
Phone: 905-676-3700 ext. 4140
Cell: 647-205-8005
Fax: 905-676-1835
Toll Free: 1-800-226-1875
email:- tnobes@livingstonintl.com
www.livingstonintl.com
HONG KONG
Kerry Logistics Hong Kong
Anthony Ip, 
Senior Manager - Sea Freight Operation
3/F, Kerry Cargo Centre, 55 Wing Kei Road, Kwai Chung, 
Hong Kong
D +852 22119368  
T +852 22119300  F +852 26151813  
M +852 6138 7732 
email:- anthony.ip@kerrylogistics.com
SINGAPORE
Rapha Shipping PTE LTD 
Mr. Xavier Sayson
28D Dover Crescent
#10-71 Singapore 134028
Mob. 65 96 67 36 76
Fax 6474 9311
Email:- operations@rapha.sg
email:- xaviersayson@hotmail.com
AUSTRALIA
X L I
Leigh Moss
Ocean Freight Manager
6/25-27 Musgrave Avenue
Welland  S.A  5007
Phone: (08) 8346 1805
email: adelaide@xli.aero
You require payment prior to shipping; can you provide references from previous clients who have done the same?
We have experience of shipping to clients all around the world and would be happy to supply references so that your mind is at rest regarding our integrity.
Optionally, we can put you directly in contact with previous customers.
What payment options do you offer?
We offer payment by bank wire into our French or UK Business accounts as well as accepting payment via Paypal, subject to an admin fee. Bank wire is the method most favoured by clients.
We also offer the option to pay in £sterling or in €euros.
 
Yes.
We do offer interest free credit on some larger purchases providing the option for you to pay over several instalments.
On agreement to the arrangement the floor is classified as sold and will be kept in storage free of charge until the final instalment is received at which point we can either continue storing, should you not be ready to receive, or it will be delivered to you. Enquire for more details.
 
Has Brexit affected buying from The Antique Floor Company?
We have provided an update on this for you which you can find if you click here to find out more